Click HERE for Seasonal Birthday Party SPECIALS!!!!
***
STARTER PACKAGE
$14.99 per person
Private Party
Slice of Pizza
Soft Drinks
Balloon Centerpiece
Party Coach to provide FUN
12 ARCADE TOKENS for each guest
100 FREE PRIZE TICKETS for the Birthday Child
Downloadable Invites & Thank You Notes
OUTDOOR ADD-ONS
Batting & Wiffle Ball
Get extra practice for Little League or just test your skills
$20 gets you 10 TOKENS and we add 3 FREE
 Miniature Golf
A relaxing game with beautiful water features
 $4 per player (12 & under)
 Target Paintball
A charming western theme makes getting the bad guys a TON of fun
$4 per round of 50 shots 
INCREASE THE FUN WITH THESE ADDITIONAL PARTY ACTIVITIES!
*Stuff-A-Bear – $6.99 per child
*Pull-String Pinatas - $19.99 (Filling – toys and candy - $1.00 per child)
EXTRA ARCADE TOKENS FOR EXTRA FUN
$25 adds 100 Tokens
$50 adds 220 Tokens
$75 adds 330 Tokens
$100 adds 440 Tokens
PLAN YOUR CHILD'S NEXT PARTY WITH STATION SPORTS!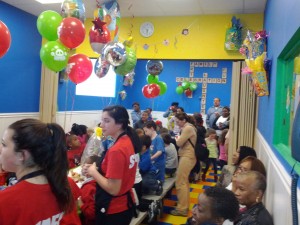 Here at Station Sports we are aware that organizing a kid's birthday party can be exciting and special. How would you like to make your son's or daughter's day, as well as yours a most memorable one? Although you might find it hard to believe, it is just a reservation away! Our kids birthday party packages were designed to maximize the fun on your child's special day and the cost effectiveness for you.
Station Sports offers several different party packages that are perfect for any event whether for kids, adults or that corporate outing. Please contact us now if you would like to customize a special event.
 Make A Birthday Party Request NOW!
Download your Invitation here!
---
Make A Birthday Party Request NOW!
All parties Require 10 guest minimum
25 Depot Road, Huntington Station, NY 11746
See Manager or call 631-673-1830 for reservations
PLEASE, ADULT SUPERVISION NECESSARY – 1 : 5 RATIO
www.stationsports.com